Online Book Fair – FUNofReading.com
Select Your Book Fair to Give Them Credit!
Your school/organization earns 50% of the sales in FREE books or up to 20% in CASH!
Click on your school/organization's name below to connect your device to your school – please do this again if you switch devices.
Check that your school/organization is still listed before checking out – with Becky Dean listed as Rep. Thanks.
If you are not familiar with Usborne books & Kane Miller books, they are educational books designed to make reading FUN! Keep reading below for videos and more info.
Personal Service
Hi, I'm Becky Dean and I have been with Usborne Books & More for 27 years. As a mom of four and now a grandma of seven, I have seen/read most of the Usborne and Kane Miller titles. Please reach out with any questions. It is my pleasure to serve you.
EMAIL BECKY
Or, call Becky at: (218) 404-0599
Browse through a "Flippable" Online Catalog
Our money-saving collections are at the beginning of the catalog. Following, Usborne books are featured in the catalog first – loosely grouped by ages. The last half of the catalog will be Kane Miller chapter books and picture books.
FLIPPABLE CATALOG
Look for the AR symbol in the flippable catalog.
Many schools use a leveled reading program as part of reading instruction in order to measure comprehension. PaperPie partners with the following companies to provide reading levels for select titles: Lexile – Fountas/Pinnell (FP) -Accelerated Reader (AR)

PaperPie also provides Publication Dates and Library of Congress Control Numbers (LCCNs) as a resource for students, parents, educators, and librarians.
PaperPie – Stories Made for Sharing
Chapter Books
Summaries, reviews and inside pages of select Kane Miller and Usborne chapter books in age order…
CHAPTER BOOKS INFO & REVIEWS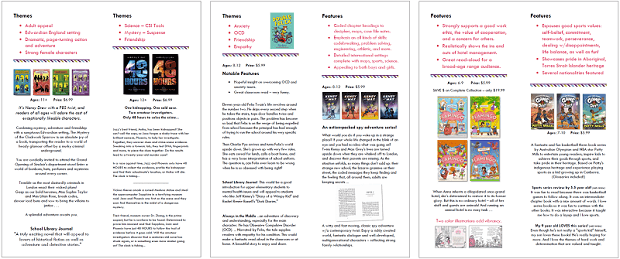 Usborne Encyclopedias Overview…
Do you remember sitting at home reading from the encyclopedia set when you were growing up? Encyclopedias cannot be checked out from the public library so having them in your home can help open the world to your children.
Usborne has several different encyclopedias and reference books. Watch the video for a brief overview of their features and differences.
SEE USBORNE ENCYCLOPEDIAS
My First Reading Library
Phonics Based
The Usborne My First Reading Library is a fun and interactive phonics based program that teaches every sound in the English language in a systematic and logical order. Use to teach your child how to read, as well as to help children who are struggling with reading. By learning phonics, children are able to decode and read longer words.
My First Reading Library Info