Extraordinary Lives Biographies – Usborne Books & More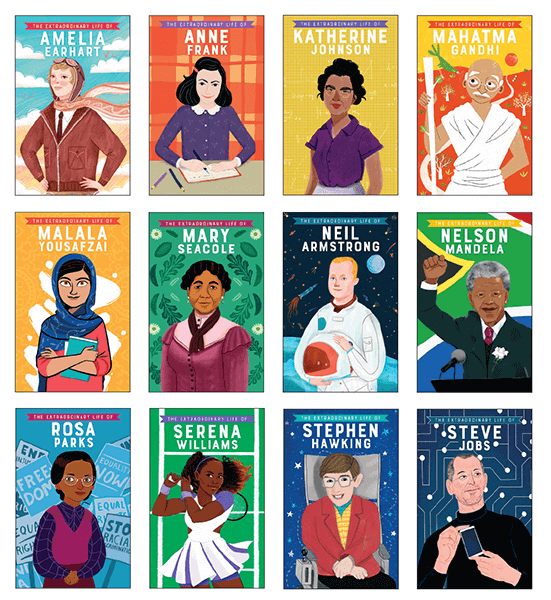 Biographies INSPIRE & MOTIVATE
When I was in grade school, I read every single biography in my school's library. Stories about men and women, boys and girls who typically overcame difficult circumstances in their lives to make a difference in their worlds. And even though I don't remember the particulars or even the names of the people I read about… those biographies definitely shaped who I am today!
How? You can't help but be inspired to take personal responsibility for your life circumstances and attitudes when you continually read about others who have done so. Biographies are also helpful to realize that everyone has "life" no matter who they are. Reading stories about others opens your heart to all kinds of people and helps develop empathy. Or, sometimes they can be a cautionary tale – a great discussion starter to share your family's values.
Are you intentional about reading biographies?
The Extraordinary Lives biographies explore the childhood, achievements, and qualities of each figure – what helped define who they were and enabled them to have such an incredible impact. Each book has a timeline, is fully illustrated in color and has inspirational stand-out quote pages to break up the content. This helps for struggling readers, as well as making them the perfect read aloud book for younger children. These biographies geared for ages 7-11 are still fun for all ages to read… so yes, you can also buy books for yourself! 😉
It was so fun to learn about Mary Seacole. She had my same love of TRAVEL and sense of adventure! She didn't let anything stop her from reaching her goals.
Amelia Earhart was a COURAGEOUS woman who didn't let the boundaries at the time stop her from pursuing her passion. Did you know she was also homeschooled?
Katherine Johnson was amazingly brilliant. Watching the Hidden Figures movie and reading this book and the Neil Armstrong book would make a nice learning unit.
An inspiring story to work hard and MAKE your dreams happen. Did you know Serena was homeschooled and studied fashion design? Her tennis outfits and drive towards her goals are extraordinary.
How does your home library stack up?
Does it include biographies of both men and women? I focused more on my favorites within this series which happen to be women, but I have read them all and would recommend the entire collection – you save money on the collection, too.